AP Property Tax Payment for House Tax to Municipalities and Municipal Corporations Prorepry's Tax online at https://cdma.ap.gov.in…
Andhra Pradesh is a diverse state right now and with lots of cities and regions, it is a prominent residential area that some of you might be residing in, and if you own a property then you should know that the AP government has given their Municipal administration the authority to issue property tax bills to all the property owners across the state.
cdma.ap.gov.in property tax
So, if you have a property then you will receive a tax from the AP government every year that you should be paying compulsory. And they have implemented an online method of payment, which is what we are going to show you today in this article.
Property Tax AP
Follow the instructions mentioned below which will explain to you further how to use the Andhra Pradesh Municipal official website in order to pay for your property tax directly. And you do not have to create an account in order to make the payment.
cdma.ap.gov.in property tax online payment
Firstly you need to open the Commissioner & Director of Municipal Administration of Andhra Pradesh official website from here https://cdma.ap.gov.in/.
And then from the top menu section, you have to click on the Online Payments option and then under this select the Property Tax option.
Then on the next page, you have to enter the following details.

District: Select the district from the drop-down options that your property is located in.
Corporation/Municipality/NP: Select the area from the given dropdown options.
Payment Type: Select "Property Tax" option and then click on Submit button.
Then this will reload a new page through which you have to enter the following information as asked below, search property by.
Assessment Number: This will be on your property tax paper as your assessment number.
Old Assessment Number: This number will also be present on your property tax papers.
Owner Name: Enter the owner name for the property here.
Door Number: Here enter your property door number and then simply click on the Search button.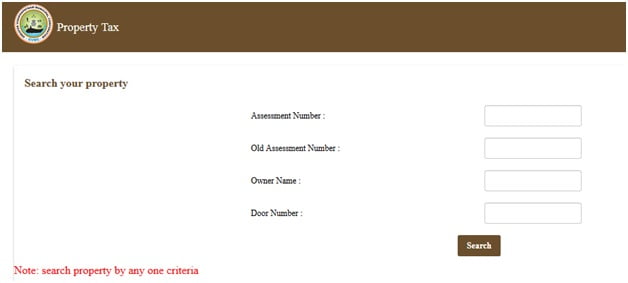 This will now open the payments page where you have to click on the Pay Now button and this will again redirect to a new page through which you have to make the payment.
Simply select any payment gateway and then select a payment option on the page through which you have to complete the property tax payment online easily.
While making payment you will receive an OTP to your registered mobile number for confirmation.
Once the payment is completed click on the Okay button and you will again be redirected to a new page where the acknowledgement number and reference number for your payment will be present that you can save for future reference as proof of property tax payment for Andhra Pradesh.