BMC Mumbai Property Tax or MCGM Mumbai Property Tax Payment Online at the Brihanmumbai Municipal Corporation official website at https://portal.mcgm.gov.in…
MCGM stands for Municipal Corporation of Greater Mumbai which is responsible for providing the amenities and necessities like water, and electricity to the city of Mumbai all through.
MCGM Property Tax
All the citizens of Mumbai who own a property which can be land, a house, or a building have to pay their allotted property tax which is one essential municipal tax that is collected every year. If you have the issue or find difficulties finding how the MCGM property tax payment is to be done, then just go over our article below.
In order to help you with your Brihanmumbai Municipal Corporation (BMC) property tax payment we have written this guide where we've explained all the processes required to make the Mumbai property tax payment process.
www.mcgm.gov.in property tax
Simply follow the instructions below where we have shown you step by step on how you can make MCGM property tax payments from their official website directly.
BMC Property Tax Online
Firstly open the MCGM IRJ Official portal from here https://portal.mcgm.gov.in/irj/portal/.
Then click on the Property Tax (New) button under the Quick Links section.
After that, you will be redirected to the CSV Login portal where you will have to enter Property Account No and then enter the Captcha from the image then click on the Login button.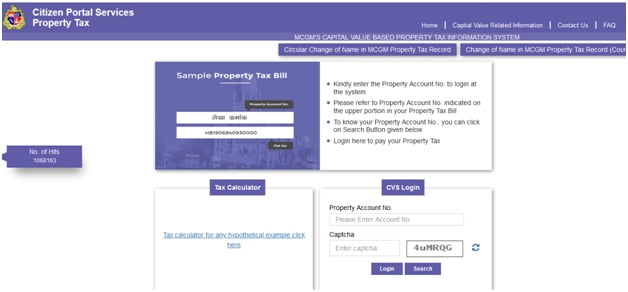 Once you click on the login button this will redirect you to your Property Account Address.
After that check the amount you want to pay and enter it in the Amount You Want To Pay and then simply click on the Online Payment button.
Next under the Bank/Payment Gateway Name you have to select the payment gateway you want to make the payment with and simply make the Property tax payment using your preferred method of Gateway.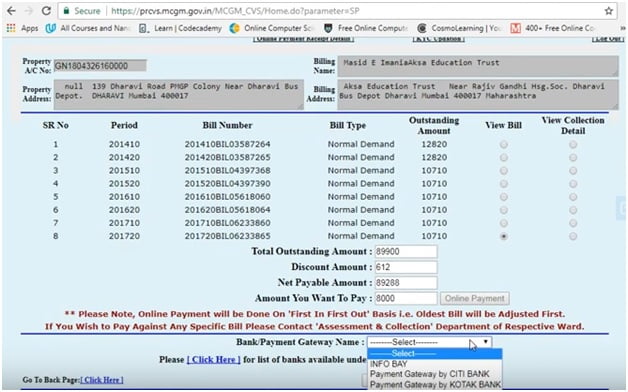 Once you have made the payment then you will receive the transaction acknowledgement which you can save for future reference as proof that the payment for your property tax has been made.
Frequently Asked Questions
Can I make payment for MCGM Mumbai Property Tax from Paytm?
Yes, you can check the Property Tax or Municipal Tax option in Paytm and then select the MCGM Board under which you can enter your property account number and then make the payment directly.
Is there any interest on late payment on MCGM Mumbai Property Tax?
Yes, there is a late fee on the payment of the property tax after the due date but the late is not available online and should be enquired about from their office.
Can I pay the Mumbai MCGM Property Tax using UPI?
No, the official website which we have shown does not allow you to make use of the UPI payment options to make the Mumbai property tax payment.