Chennai Metro Water Tax or Chennai Water Bill payment for Municipal water tax online payment at http://chennaimetrowater.tn.gov.in…
If you live in Chennai then you understand that there is a municipal tax linked with the water amenity provided to you. And this is collected from every individual citizen under the Greater Chennai Corporation region so that service tax for water is collected under the Government of Tamil Nadu Municipalities.
CMWSSB Online Payment
And you might have received your CMWSSB water bill for the month that you would like to have paid and this might put you worried as you don't know the online payment process. In such a case, do not worry because in this article we will explain to you how you can make the Chennai water bill payment online directly with ease.
Chennai Metro Water Online Payment
The Chennai water bill is managed by the CMWSS which is Chennai metropolitan CMWSSB water supply and sewerage board that is responsible for allocating the monthly water bills to all individuals. From the below steps, you can find out how payment for your Chennai water bill can be made online directly.
First, open the Chennai CMWSSB official website from here https://chennaimetrowater.tn.gov.in.
And then click on Online Services option from the top menu section and under this click on Water Tax & Charges Payment option, this will open a new page
And then on this new page click on the "Click to view Water Tax & Charge Payment" button which will redirect you to their bill payment page directly
On the payment page, you can either pay with your mobile number or else by using your bill number also

Method 1 – Enter your mobile number and then click on the Pay button
Method 2 – Here select the area, and division from the given dropdown options, then enter your water bill number and then enter the subcode. Then click on the play button.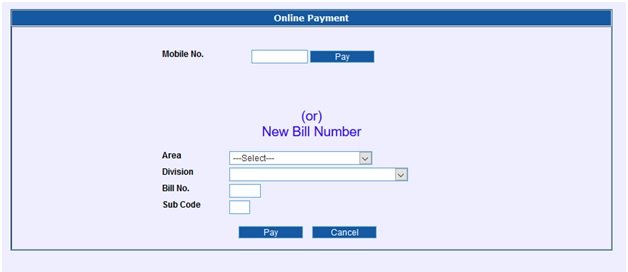 In both cases, once you have clicked on the Pay button this will redirect you and open a new page where you have to make the payment from the given payment gateways.
Simply use one of the payment methods to make your water bill payment from there and you will receive your payment confirmation number as well.
Frequently Asked Questions
How long does it take for the chennai water bill status to be updated after payment?
According to the CMWSSB the bills paid will not be updated in quick time and can take upto 1 bank working day for your status of the bill payment to be changed to the correct one. So, ensure that you save your bill payment acknowledgement number or reference number to use it as a reference for the future that you have made the payment.
Where can I check my bill status once the payment is made?
After the payment is made you can use this check the status from the link below either using your phone number or the bill number along with other required details.
Link – https://chennaimetrowater.tn.gov.in/NewMetroWater/MetroWater/PGBD1/ViewSurcharge.aspx