e-Way Bill Login & New User SignUp for e-Way Registration Process for Goods and Services Tax is well known as GST and this e-Way bill system is at https://ewaybillgst.gov.in…
Government of India, Goods & Services Tax are as well known as GST, and this e-Way bill system is used to manage all the vehicles, transportation vehicles taxes at large for any state throughout the country.
eway bill login
So all the employers or owners of transportation have to pay this type of tax and in order to do so, they will have to create an account in the e-Way Bill System which is very much similar to the tax filing process.
In this article, we will first go through the process in which you can learn to register your e-Way bill system account and then we will guide you through the login process as well.
How to Register for e-Way Bill System – e-Way Bill System Registration Process
Most of the time you might wonder if this process of registration for the e-Way bill system will require official help from the company but it does not need such needs. It is so because you can follow the below steps which are simple in themselves and guides you thoroughly to register.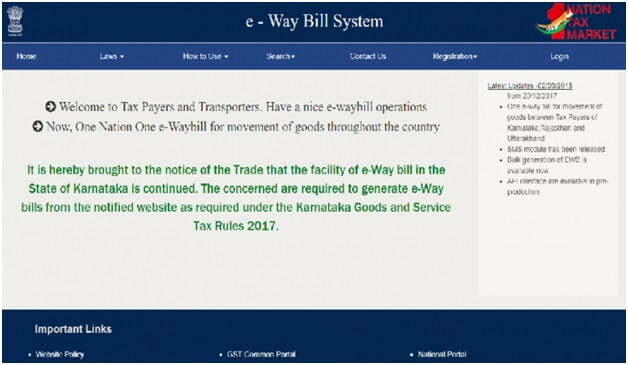 Then click on the menu and under it click on the Registration option, then select "e-Way Bill Registration" option.

Under the registration form enter the GSTIN number and then below enter the captcha, then click on the go button.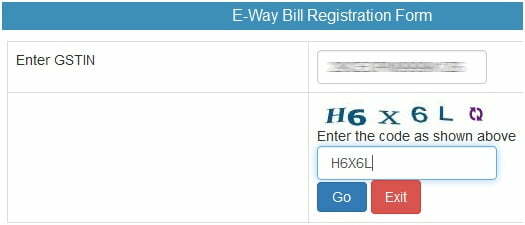 Then on the next page, you will have to enter your personal information along with address details.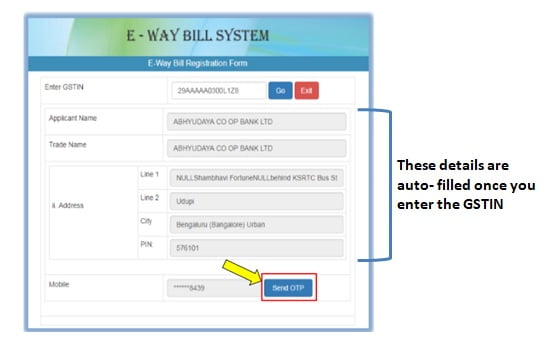 After that enter your mobile number and then click on Send OTP button which will send you an OTP.
On the next page, you will have to enter the OTP button and then click on Verify OTP button to register your account with your GSTIN number.
Enter Login Credentials: In the next pages you will see the window with login details creation and you will have to follow the below details to create account details.
User ID: Enter your username or ID here and this can be a combination of alphanumeric characters with a max of 32 characters.
Password: Enter a password of your choice and then click on submit button this can be a max character limit of 63 characters.
In this way, you can register for the e-Way bill system and create your account quickly time!
How to log into e-Way Bill System Online – Sign In Process – e-Way Bill Login
The process to sign in to your account for the e-Way bill system is simple as well and with the below guide, you will find it easier to sign in from now.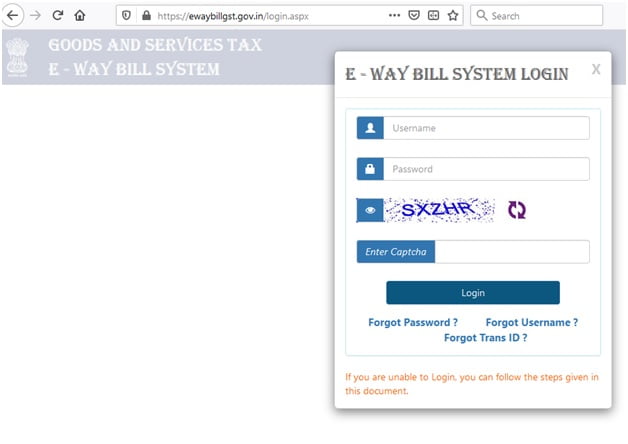 Open the e-Way Bill System official website from here https://ewaybillgst.gov.in/.
And then under the menu section click on the login option from the top
On the login page, you will have to enter the Username, Password and captcha code.
Then simply click on the login button and you will be signed in to your account.
Now we have completed the registration and sign-in process for the Goods and Services e-Way bill system online.