PAN Card Application to get New PAN Number and Status Check for your PAN Card Application Status Tracking at NSDL Portal of https://tin.tin.nsdl.com…
PAN which stands for Permanent Applicant Number is a widely used and recognized Government-issued identity proof and is mandatory for many functions in and across India. It is used for necessitating your bank account or for keeping track of your financial status and score as well.
Today we will learn more about the process on how to apply for PAN online in the first part and then also show you guys how you can check the application status for PAN from online.
How to Apply for PAN Application Online – New PAN Online Registration
You can follow the below instructions which will guide you through the complete PAN registration process even if it's your first time doing this. Before following the below guide make sure to have your ID proofs and required documentation necessary for the registration.
First open the PAN Card official registration page from here https://www.onlineservices.nsdl.com/paam/endUserRegisterContact.html
After that you have you have to select the option Apply Online button and then under the Application type and Applicant information has to be filled and then click on Submit button

Application Type: Select the pan card type you are applying for from this drop down option
Category: Then select the type of category and for people it is individual
Applicant Information: Enter the basic information that has been asked and then simply click on submit button to continue to the next step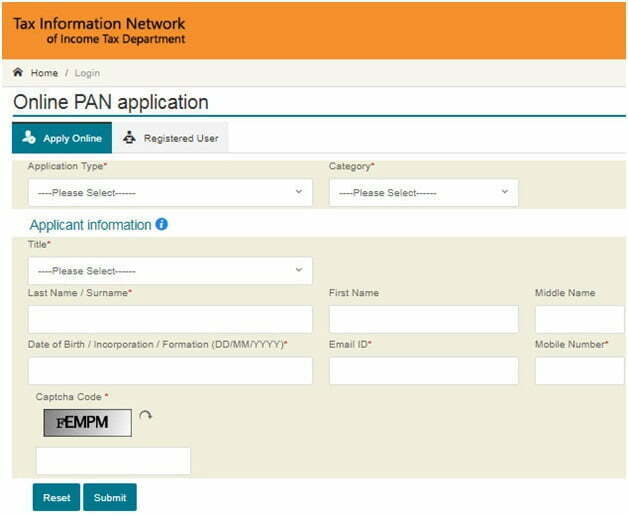 In the next step, you have to click on Continue with PAN Application Form and this is redirected to the Online PAN application page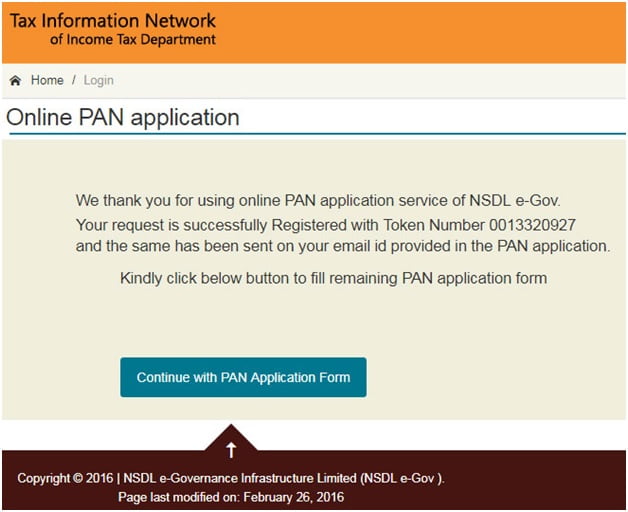 Under the Online PAN application page, you will have to view the guidelines first and then enter your personal details in the next page
Then under the Contact & other details, you have to enter your contact information like phone number and email
AO Code, here you have to fill your area code and then click on the Next button
Then in the last page of Document details, here you have to add proof of identity and then have declaration signed and completed, then click on submit button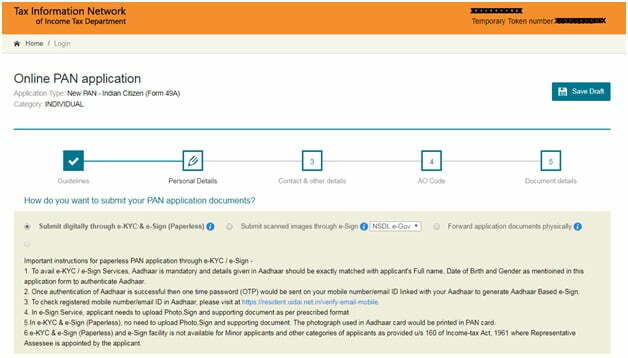 Payment Process for PAN Application
Once you click on Proceed button after reviewing your application you will be redirected to the Payment page and then you will have to make the payment
Once payment is done you will receive the acknowledgement form which makes you have complete your PAN application process and payment is done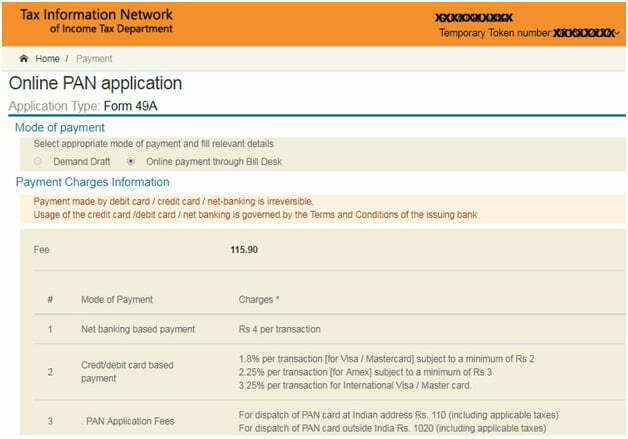 How to Check PAN Status Online – PAN Status Checking Guide
Once you have completed the registration for the PAN online then you have received your acknowledgment number and form which you can use to check the status of your application by following the below steps.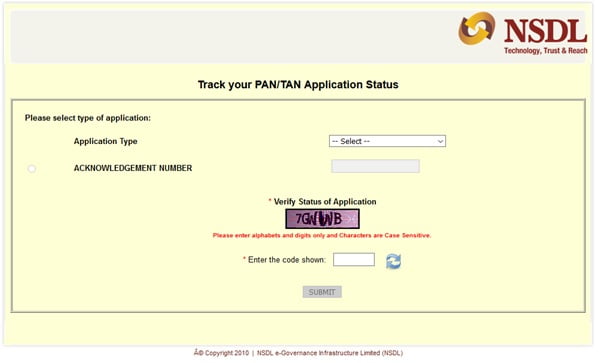 Open the PAN status check page from here https://tin.tin.nsdl.com/pantan/StatusTrack.html
Then under Application Type select the "PAN – New / Change Request"
In the Acknowledgment, number enter the number and then enter captcha from image
Then finally click on the submit button and then your application status will be shown!