Rajkot is well known and versed in the aligned taxing system that they have implemented along with the facilities that they provide. One of which is the property taxes that are collected every year and it is managed by the Rajkot Municipal Corporation also known as RMC.
RMC Property Tax
In order to make sure that the taxes can be paid online rather than going to the offices, the RMC launched its official website through which you can even pay your property tax online.
Now in today's article, we will describe and guide the method through which you will be able to make the property tax payment for the Rajkot RMC directly.
rmc.gov.in property tax
Now that you want to make the property tax payment for your property, then you can go over the steps instructed below and understand how simple it is to pay from RMC official website.
How to Make RMC Tax Online Payment
Firstly you will need to open the RMC official website from here http://www.rmc.gov.in.
And then click on the Online Services menu from the top menu section and this will redirect you to their online services page.
Then under this page, under the Property Tax section, you have to click on the Property Tax Payment option and this will open the payments page.
Under the Property Tax section, you can either select the Old Property No or New Property No, where you have to enter the property number and then click on the Show amount Payable button.

On this payments page check if the amount of the property tax is correct and then scroll to the bottom of the page and click on the Pay Now button.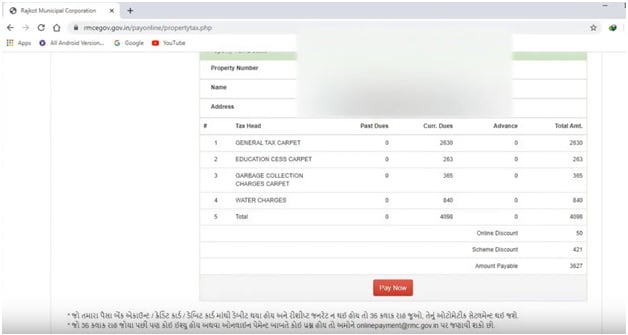 On the next page, you have to enter your mobile number, and email address and then select the terms and conditions, and then click on the Pay Now button which will redirect you to the payment gateway page.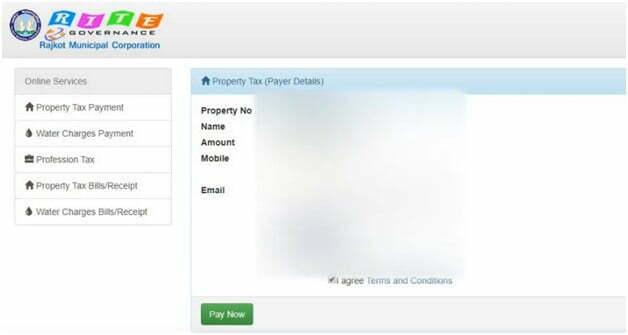 On the payments gateway page you have to pay with your preferred method of payment and then simply make the payment.
Once the payment is made you will receive a confirmation or acknowledgement that the RMC property tax payment has been made that you can save as a reference for the future the payment has been made.