Update / Change / Modify SBI Account Mobile Number by Using Internet Banking, SBI ATM, and Nearest Branch with a very simple way for SBI Account Mobile Number Update or Change…
State Bank of India is the world's top-tier bank and one of the biggest banks in India as well. One of the main parts is that their service is integral to all their account holders. And if you have an account with SBI then you might be lucky because they are well known for being great on their interest rates.
SBI Mobile Number Change
But all things apart, you also need to ensure your account is properly vetted. It means you need to have proper security which simply means that your account phone number. In this guide, I will show you how to add or update your SBI account with a mobile number.
SBI Mobile Number Update by Net Banking
In the context that you might have changed your mobile number or else you have lost your number, but you've got a new number registered then it is time for you to update your State Bank of India online account with your latest number. Well, this might seem hard for beginners, but simply follow the instructions below in order to change the number.
First, open the State bank of India official website from here https://www.onlinesbi.com/.
Then click on the section "My Accounts and Profile" and then under this section click on "Profile" from the given drop-down menu.
You will be redirected to "Personal details/ Mobile" option and then under this page, you have to click on password and enter your current password, then click on submit button.
Next click on the "Change Mobile Number-Domestic only (Through OTP/ATM/Contact Center".
After clicking on it, you will see a new popup page "Personal Details-Mobile Number Update" will appear and then here you have to enter the number details for new and old, then click on submit button.
On the final page, you will have to confirm the verification by using any of the below three methods.

OTP verification with mobile number.
IRATA verification through ATM.
Approval through Branch.

Here you have to select "OTP verification with mobile number" and then enter the mobile number, you will get the OTP, enter it on the page and then click on submit button to make the changes.
Again a new popup will appear on the screen, where a verification message will be shown, click on the Ok button to continue.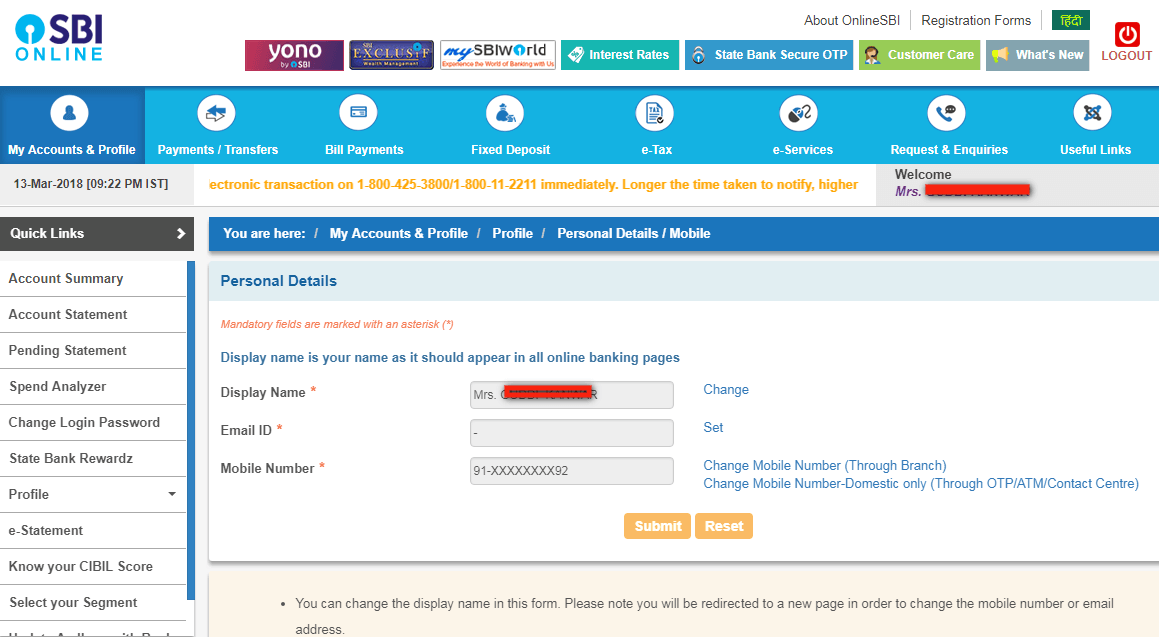 And in this way, you will be able to change your mobile number on your SBI account with the latest one.
SBI Mobile Number Change by ATM Center
The SBI ATM Centers also provide the service to change or update Registered Mobile Numbers to their account holders, those SBI Account holders can follow the simple steps to update or change their mobile number using ATM service.
Visit Nearest SBI ATM Center (Not for other Banks).
Insert your ATM Debit Card and Enter your PIN to Login.
Than Select Account Services and Choose Change / Update Mobile Number option.
Now enter the required details of the Account and Proceed.
Then you will get an SMS for the status of the Update.
Sometimes the process will ask for OTP from a previously registered mobile number, and sometimes it will proceed with a newly entered mobile number, proceed with SBI ATM Instructions to update your account mobile number easily.
By Submitting SBI Mobile Number Updating Form at Nearest Branch
Every SBI Branch will support every service of the Bank to all eligible account holders at any branch of the Country, those who need to update their mobile number can contact any SBI Branch nearby and ask for Mobile Number Updating Form, and fillip with complete details of the account holder with necessary details and submit at the Branch Manager.
The Branch will verify your details and update your new mobile phone number within 24 working hours, once successfully completed the process you will get a confirmation through SMS from SBI.