You can remove individual search history results from the Google search page's instant list along with My Google Activity on all Products of Google at activity.google.com/myactivity. It's essential to secure our search history and other activities from others based on personal reasons.
My Activity History
Everyone can use the Google My Activity page to delete a big part or all of their search history. Delete or Clear your Google Search history and activity will only remove items entered into the Google products such as Google Maps timeline, Location history, photos, YouTube Watch and Search Activity, etc.
Nowadays, everyone has multiple devices working through Android, Mac OS, and other devices. Google allows viewing and Removing/Deleting or Clearing your search history and other activity of the user through the Google My Activity Page for all linked devices of the Google Account.
My Activity Google History
The simple guide help to See your Browsing History and Delete it by Clear option by Device, Date, Month, and custom level through the My Activity Google History page at myactivity.google.com/history for Web and App Activity, Location History, YouTube History and other activity through the account.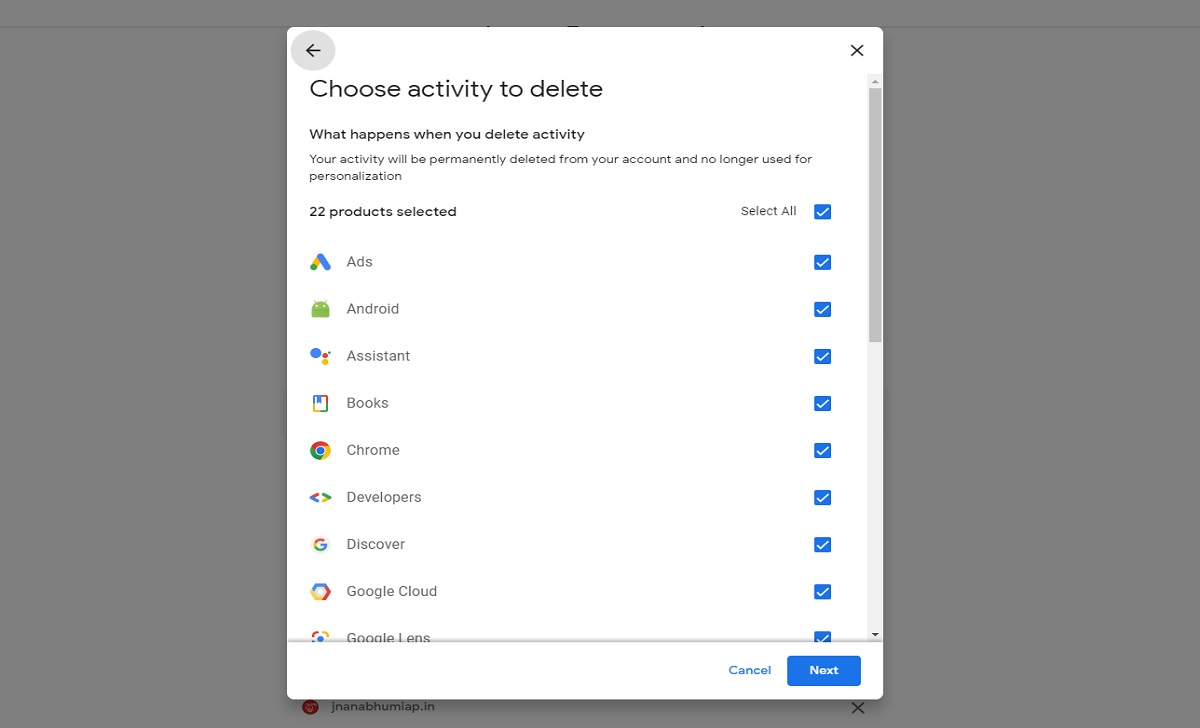 How to Delete Google My Activity on an Android Device?
Login into the Google Account on your Android Phone/Device and open the Chrome Browser.
Search for "My Activity Google" and open the link; here is the direct link https://myactivity.google.com/myactivity?pli=1.
You can see and delete your activity using the controls on this page for Web & App Activity, Location History, YouTube History, etc.
On the page, you will see Browsing History along with a Filter.
By Using Filter by Date and Product, you are able to find by My Activity Google for every Google Product by Selected Date by filtering selected product.
There is a Delete Button also available to delete activity by last hour, last day, all time, and custom range.
Delete your activity at all times to clear the entire history of the account.
A window opens by automatically selecting all products and showing them as a list, such as Android, Chrome, Google Assistant, Google Lens, Play Music and all.
Unselect one or more if there is no need, then go with delete and confirm again.
That's all; the entire Google My Activity history is deleted successfully.
That's it, now your activity in Google is completely deleted for all or selected products for all times or selected dates through Android.
How to Delete My Google Activity on PC/Laptop
Deleting My Google Activity on a Desktop PC or Laptop is also similar, the following steps help to delete all browsing history along with App activity on Google Product by date and custom range.
Open a web browser on your computer and log in with your Google Account.
Click on the 'Profile Pic' then proceed with "Manage your Google Account.", Next, go to Data & Privacy.
The direct link is https://myaccount.google.com/data-and-privacy.
Scroll down and see History Settings. In that, click on "Web & App Activity", then click on "Manage all Web & App Activity".
Now, Activity controls are allowed to delete activity by App/Product.
Now, you can see the "Filter by Date" and "Delete" options.
Click on "All time" and conform to clear the entire Google activity.
How to Delete My Google Activity on iPhone?
Apple Users of iPhone and other Mac OS & iOS Device users can follow the simple steps to delete history simply through Google My Activity.
Open the Chrome browser on your Apple Device.
Login into your Google Account and Go to the Profile Section.
Now you have reached https://myaccount.google.com.
Proceed with 'Data & Privacy' and scroll down to see History settings.
Now you can manage Web Activity, Location History, YouTube History, etc.
Along with that, you can see 'My Activity, Maps Timeline, YouTube Watch and Search History'.
Select an interested one or more products to delete histories and activities.
Delete by Selected Date or All Time by selecting custom filters.
How to Delete My Google Activity through Google App?
Launch the Google App and log in.
Go to Profile Settings and Select Date & Privacy.
Next, Select My Activity to delete all product activity with search histories, etc.