Google Chrome Password Manager for Manage your Saved Passwords on Chrome browser, Simple Steps to Setup and Manage…
Google Chrome, commonly known as Chrome, is a freeware web browser that Google LLC developed. This web browser is available for all devices, including Android and iOS phones, making it easy for an owner to access the passwords at any time.
Google Password Manager
Google Chrome is specially designed together with an inbuilt password manager that makes it possible for a user to save their username and password whenever they sign into a website by using Google Chrome.
The saved passwords are then synced with the Google accounts, making it easier for you to access it on any device that you have signed in to using your Google account.
Chrome Password Manager
For a person who is using a different browser such as Safari on iPhone, it is possible to access the saved password in Google Chrome by using passwords.google.com and directly entering the link on Chrome browser chrome://settings/passwords.
chrome://settings/pa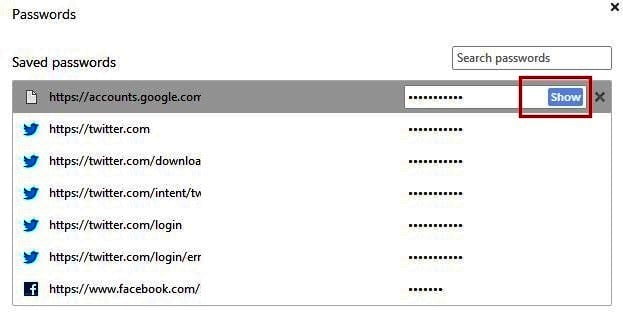 Accessing Passwords from any Location by Using Google Password Manager
If you wish to access your passwords from anywhere by using the Google Password manager, then you can do it easily by visiting the Google Password website. All you need to do is open the Google Password Website and enter your username and password to sign in to your Google Account. Once on the website.
you will be able to get a list of all accounts that you have previously used to sign in to the account. This list also contains the associated password used to sign-in in Chrome although they are usually hidden by using asterisks. To reveal the password, all you have to do is click on the corresponding eye icon.
How to Hide Google Chrome Passwords
Hiding passwords using Google Chrome Password manager is very important as it helps in preventing third parties from gaining access to your account. Any person who has not set up 2-factor authorization for their Google account is at risk of allowing third-party access to their Google account.
If by any chance a person gets hold of your main Google account password, it becomes easy for them to get access to all your passwords by using the Google Passwords Website.
If you want to hide your passwords from other parties, then you can do this by not saving your passwords in Chrome or making them inaccessible from the Google password website by following the steps given below:
On your desktop, open Google Chrome.
Once it has successfully opened, select the settings option and click on 'Advanced Settings'.
Under the Encryption option found in the advanced settings, click on 'Encrypt all Synced Data With your Own Sync Passphrase.'
Enter a passphrase and click on 'Save' to save the settings.
After about one minute, you will not be able to view your passwords from the Google Passwords website. If you wish to see your passwords on the Google Passwords website, you can reverse the process by clicking on 'Reset to default settings'.
Alternatively, you can decide to hide the passwords by typing Chrome: //settings/syncsetup in your browser and finally hitting Enter. You will automatically be taken to the Encryption option, from where you can encrypt all synced data with your own sync passphrase.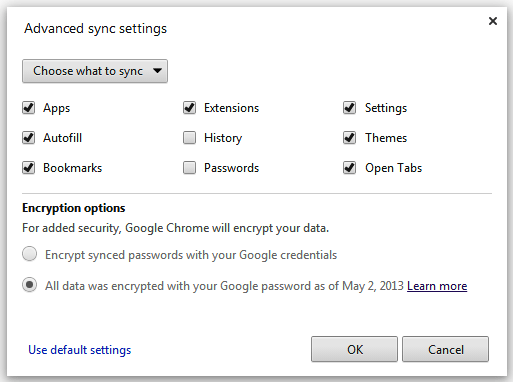 Manually Adding Username and Passwords Using Google Chrome Passwords
Google LLC, the developers of Google Chrome Password Manager, are planning on coming up with an option within the browser that will make it possible for a user to manually input details like password and username in your Google Password Manager.
Just like any other service such as LastPass, the inbuilt 'Save password' feature is essential since it recognizes when you log in while at the same time saving the password in your personal library.
When you log into the website again, you don't need to enter the username and password, as it will automatically key them in. This feature is, however, not that flexible since it may give access to third parties, thus not safeguarding the security of your Google passwords.
This feature will be available for users with Android phones before owners of iOS devices can use it. With this innovation, users of Google Chrome Password Manager will enjoy the advantage of customizing their own usernames and passwords manually.
Managing and Viewing Passwords in Chrome Browser
Managing and viewing your password in the Chrome browser has been made possible by using the Google Chrome Password Manager. If you wish to manage your passwords, you can easily do it by following the steps given below:
On your desktop, open the Google Chrome browser
After opening the Chrome browser, place your mouse cursor on the Chrome menu button and then click on 'Settings'. You can opt to use another easier method of opening Google Chrome settings by simply typing Chrome://settings in the address bar and then hitting Enter.
On the page that appears, scroll down to 'Show Advanced Settings' and select the option by clicking on it.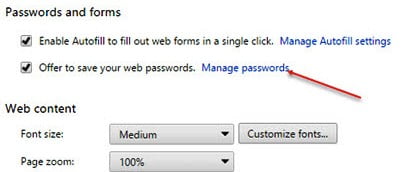 In this section, place the cursor on 'Passwords and forms', then click on the manage passwords' link.
You will be able to see all the saved passwords in the Google Chrome Password Manager. Chrome has added a new security measure that requires you to enter your Windows Login password.
After entering the Windows Login Password, all your passwords saved in the Google Chrome Password Manager will be displayed. You can now manage and delete any saved password from this new page.
There is also an option of synchronizing the passwords to your Google Account so that they can be accessed from other devices that you may be using. In order for this operation to be initiated, you have to sign in to your Google Account.
Google Chrome browser also has a built-in Password Generator that is essential in developing complex passwords for security reasons. This feature has not been used by many people, since it is not that common among the users of the Google Chrome browser. You can check out the built-in Chrome password and see how it improves the security of your Google account password.