Airtel Smartbytes is a top-up service that is provided by Bharati Airtel to Airtel Broadband Customers. This service makes it possible for customers to define their data usage without facing any difficulties. What makes it unique is the ability to buy a new data pack once you use up all the data that you had purchased initially.
This new data pack ranges from 1 GB to 50 GB with the cheapest being sold for Rs.99. With this new pack, you can be able to continue surfing the internet without having any problems.
Airtel Smartbytes
Airtel Broadband makes it possible for a user to enjoy faster internet speeds from the comfort of their house without having to worry about data shortages. This Broadband has contributed to Airtel being the best service provider network available in India.
People mainly rely on the different Airtel Broadband plans for entertainment purposes, working purposes or for downloading important information. With Airtel Smartbytes, all the internet requirements of a customer will be met, as it is the best and fastest broadband internet.
Airtel SmartBytes Plans
There are two different types of Airtel SmartBytes Plans that a customer can choose. They are:
SmartBytes for Broadband – Top-up your home pack.
Smartbytes for MobileGet- Extra data on-the-go
Features and Tips on SmartBytes
If the current internet speed is not convincing enough, you can decide to increase it to the desired speed. This can be made possible by purchasing additional high-speed data that will suit your requirements. Airtel has made it possible for the customers to know the speed at which their internet connection is running at by simply checking the internet speed test.
Airtel will constantly remind you of the data usage limits and allow you the opportunity of buying an additional data pack once you finish it before the set date.
How to Check Airtel Broadband Internet Usage Data by using Airtel Smartbytes
Many people end up not having a working internet connection as they are using the Airtel Broadband. This is because they failed to monitor their data usage and thus getting them unawares as they are doing important things. Losing an internet connection might be very irritating especially if you are in the middle of something special that did not want any disruptions.
To be on the safe side constantly check on your Airtel Smartbyte balance so that you may start preparing yourself earlier enough. If you have no clue how to do this, do not be worried, as this article will give a systematic explanation.
The steps below can be used to check Airtel Broadband Internet Data Usage:
Step 1: Login to MY Airtel
Before you can check the Airtel Broadband Internet Data Usage, you need to register yourself with the system. This can be easily done by:
Type https://airtel.in/ in your browser as the link for the Airtel broadband usage page.
Once on the website click on 'my account', which will then direct you to the first phase of registration.
Click on 'Register Now' and carry out all the instructions that follow to register yourself. Remember to fill in all the details required like the telephone number.
Step 2: Check Usage
Once you have successfully registered with Airtel Broadband, you can easily check the internet data usage by:
Entering http://airtel.in/ on your browser
Click on 'My Account' and enter the required information.
Once logged in click on 'Account Information
On the page that appears, click on 'Airtel DSL Number' This action will display two options on your screen i.e. View Unbilled Amount and View Unbilled Details.
Click on 'View Unbilled Amount' to have a look at the current month's data usage. You should, however, note that this information can only be displayed in KB. You can convert the KB into MB using Google query.
If by any chance you are running low on data, you can also decide to top-up by going to the top-up option and adding the data package depending on what you need.
It is also possible to check Airtel Broadband Internet Data Usage without having to necessarily login into any account. This can be done by following the steps below: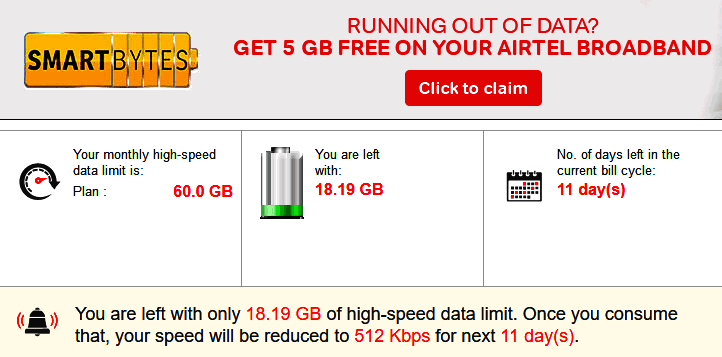 From this menu, you will be able to check Broadband Internet Data Usage Details from this link, you will also be able to see the remaining high-speed data limit for the month. If you intend to buy an additional data package for your Airtel internet connection, you can also do it by using this URL.
Check Airtel Broadband Internet Data Usage Using MY BT app
It is possible to check your data usage by using the MY BT app which was specifically developed for Airtel Customers. For any person who has an Apple or Android Smartphone, you can install this app by downloading it from the Google Play Store. Once installed, you can open it at any particular time of the day and see the amount of data that you have used up within that period.
The app is set to notify you once your allowance reaches 80% and 100%.
The Usage Monitor on MY BT
In order for you to get My BT Usage Monitor, it is recommended that you use www.bt.com/mybt as the official site. You have to register for you to login into the account. Once you have logged in, select 'My Bill' and then click on 'View your recent usage' to check how you have spent your data
All Sim Services Check by Text Message USSD Code
You should not be worried if at all your home or office internet connection is exceeding the set limit without you realizing it. This is because the Airtel Broadband Service will constantly send you text messages showing you how data is being used. Through this action, you will be able to stay within the monthly budget that you had initially set for the Airtel Broadband Internet connection.