JIO a revolution in networking and communication, is now about to launch the JIO DTH TV Set-top box (the coming sensation from JIO) which is even suitable for 4K Ultra HD TVs, this is going to be released with a JIO fibre of 1 GB connectivity, by releasing the statement of JIO Set-top box they created a hike in millions of users.
jio media cable
So, this simple guide help to give detailed information on JIO TV DTH Set-top box features and setup through jio media cable.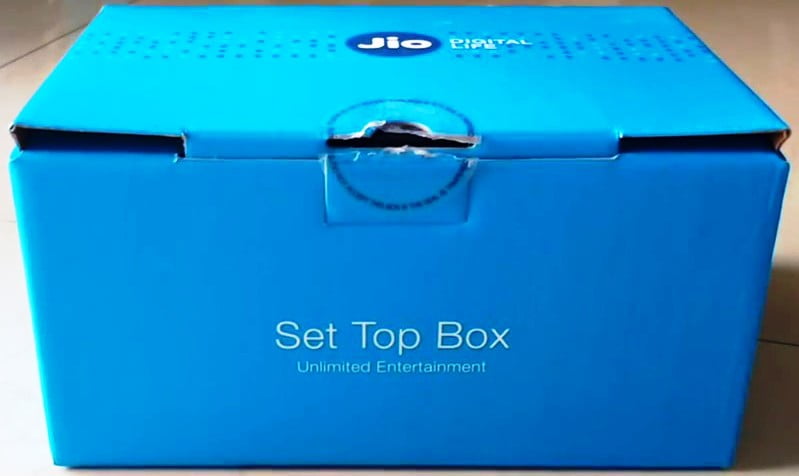 Features of JIO DTH set-top box
The JIO DTH Set-top box is available in royal black colour, the front view of the JIO set-top box is.

The front side of JIO DTH set-top box has a USB port and an LED light view(to make a user to know whether the JIO DTH set-top box is ON/OFF), the look of JIO DTH Setup box is good in view and size of the box is also small so it occupies a small space.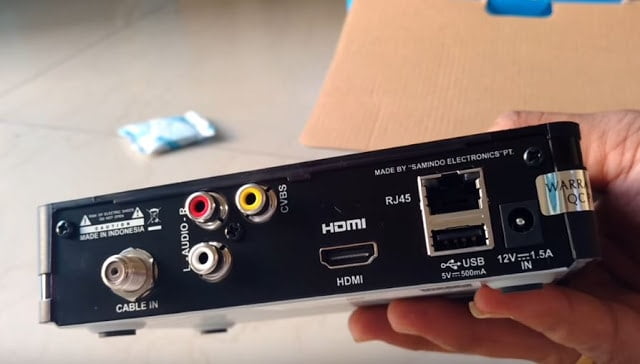 As we come to the rear side of the JIO set-top box:

It consists of one more USB portal on the rear side (these USB portals are used when a user wants to stream a video after some time so, he can store it in a pen-drive), as usual, to connect to the TV three cable ports – 2 L-AUDIO ports (white and red), a CVBS port(yellow), it also has a single HDMI port and RJ45 port, this RJ45 port is used to connect to JIO fibre of 1GBps, by this a user can watch online JIO TV, NETFLIX, etc.
There is a power pin port where the given power input cable is to be connected.
Features of JIO DTH Setup Box
2 USB ports
1 HDMI port
1 RJ45 port
cable in port
online surfing of videos through JIO TV, NETFLIX, etc.
As we have seen the features and power and port connections in JIO set-top box now we will go to the setup of the Set-top box
JIO DTH TV Set-top box setup
By using the HDMI cable that came with the set-top box we connect to the TV.
Now turn ON both TV(Full HD TV) and the Set-top box.
As we can see the TV set-up automatically goes to the HDMI port to which we connected the set-top box.
if it doesn't start automatic setup then go to these steps
first take TV remote and then press the input button.
Now there appear many input options.
see the HDMI port number to which the set-top box is connected
now select the HDMI port with the same number
Now Jio starts installing
and after 2 minutes there appear Tv channels
Options in JIO DTH Set-top box
To view different options in the jio set-top box click the menu button on the remote. there appear three options
Radio
TV
HDTV
In the JIO there are 50 HD channels and there are many more normal channels
After that, we can see TV guide on which we can search for any channel and can directly go into the channel.
We can see a schedule recording option, which is used to record a live TV and can watch later, to enable the option first we need to connect a pen drive or a hard disk to the USB drive portal.
And there are many more options like the internet, catch-up TV and many more.
JIO DTH set-top box vs other DTH set-top box
JIO works with a network so there is no dish antenna used by JIO set-top box as others do.
Even if there are rains the JIO works through net whereas others can't.
JIO gives free 50 HD channels with only monthly payment of approximately Rs.120/-
In other set-top boxes USB ports are available only at high range (high cost) but JIO gives this port with low price
the user interface of JIO is easy to work.
JIO also gives the option of surfing and catch-up TV. Surfing is not provided by any set-top box. Catch-up TV is also rare. Catch-up TV is used to watch previous shows and episodes.
This is the cheapest HD set-top box in the range of approximately Rs.5000/-, the monthly bill may be 120/- rupees, it is small in size and a very user-free interface is available, So, JIO may bring a drastic change in digitization too, the JIO Set-top box will be available in online and as well as JIO stores too.