Forgot Router Password? – WiFi Router Password Reset for Admin Login to config router control panel.
Nowadays the WiFi router has become one of the daily life electronic gadgets as Networking is spreading its wings across the world, the router connects different devices to the network interface, and any user needed to use a username and password to login into the router credential interface and then can configure router settings, as its general human nature to forget something after a long time.
Forgot Router Password
So, when a user forgets the WiFi router management console username and password there is no need to panic and there is a solution to recover, be patient to know about how to reset the password of the router and as it is not a big procedure so please read the simple guide.
Resetting your WiFi Router to its Default Setting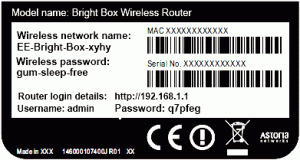 Resetting the router makes the router set it to its default settings. For resetting the router default credentials must be used to login. This is must necessary to reset the router to default settings.
You can go for it in many ways since there are different ways to find this kind of information.
You can look for a sticker within the router itself.
You can attempt a general username name and grouping of the password.
You can also go for reading your router's manual.
Enter https://192.168.0.1 on the computer browser, and press the user name and password initially it would be admin, now you can click next after login and restart the router.
How to Recover Router Password?
There is a button on the router that you can press to reset its default factory setting, this resets any kind of configuration changes that you had ever made to the router-Network configuration, parental control, forwarded ports, and customs password will be wiped away.
you can have success in assessing the router with its default username and password, but it might take some amount of time depending on the changes that you had ever made to its configuration, as you would need to go for the configuration of a router for the second time.
Steps to follow to recover the lost WiFi router password?
First presses the reset button of the router for about 10 seconds to recover the lost router password.
It will reset to the default setting by itself.
Now you can log into the router with its default user's name and password and change its password from its web interferences.
By following these steps, you would like successful in recovering your lost router password.
So this is all about how to recover the lost router password, following these steps you can recover your lost router password. Recovering routers became a common issue among a maximum of people since it is not that easy to remember passwords all the time, sometimes we even forget them forever.
But you don't need to worry about recovering your lost router password, as now you would be able to recover it just by following the steps and method written