Banglarbhumi Grievance Application Registration & Status Check Process Online under Public Grievance at banglarbhumi.gov.in…
For any service that is rendered to you or something related to the land records or their details through Banglarbhumi is missing, then you can file for a Grievance complaint. Not only then but even if you face a small nudge or issue with any of the services that are given by the Banglarbhumi then you can opt for their grievance application.
Banglarbhumi Grievance
This means that you can provide feedback about the issue you're facing to the Banglarbhumi support via the Grievance application and they will then reach out to you with updated suggestions.
So, in this article, we will first show you how to complete your Banglarbhumi grievance application form filling process and then later we will also guide you on how to check the grievance status from online to know its status.
Banglarbhumi Grievance – Public Grievance Registration
It is always important for you to notify the Banglarbhumi officials through the Grievance form application about any of the issues or problems that you are facing with their services. So, you can follow the below instructions which will help you to provide your feedback or problems to their team via the below steps.
First, you will have to open Banglarbhumi's official website https://banglarbhumi.gov.in/.
Then click on SIGN IN button and enter your login credentials to access your account from online.
And then click on Public Grievance option on the top menu section of the homepage.
Then on the popup, you have to select Grievance Application and this will redirect to the application page for Grievance.

You will have to fill out the Grievance application form with all the required details.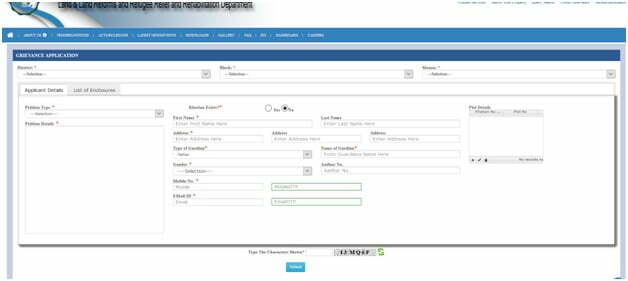 Once all the details have been filled in, cross them once again and then finally enter the characters from the image shown, then click on the Submit button and your Grievance will be submitted.
Note: You will also have to attach the required documents for necessary Grievance as per your preference for faster action to be taken on your application for the Grievance applied.
After submission, on the next page, you will receive your Grievance application number which can be used for checking its status of it.
Banglarbhumi Grievance Status Check
So after posting or applying, you need to wait for 1 week and then check the status of your application to see if there has been any update from their end. In order to check the application status, you can follow the below steps easily.
Open the browser and then go to the Banglarbhumi website again from here https://banglarbhumi.gov.in/B.
Then from the top menu section, SIGN IN to your account and then click on the Public Grievance option.
After that, you will have to select Grievance Status/ Description which will redirect you to a new page where you can check your Grievance status.
Then you will have to enter the UPN which is your Grievance Application number and then enter the characters from the image shown.

Then finally click on the Show button which will show your application status for the Grievance applied!