How to file TDS Returns in Income tax portal, Upload & View your TDS Statement of Form 26AS / 26Q at https://www.tin-nsdl.com…
As we all know that TDS (Form 26AS / 26Q) filing is an integral part of the Income Tax Filing and Returns process that has been mandated by the Income Tax Department of India.
While it is a government mandate, filing TDS can be helpful for your tax returns as well. In this guide we will learn about the simple steps needed to upload a TDS statement online in the first guide.
Then at the same time, we will also go over the necessary steps needed to check or view TDS upload status to see if it has been accepted or rejected.
File TDS Returns – How to Upload TDS (Form 26AS / 26Q) Online
So before you view your TDS statement, you will have to upload it online to file for TDS returns and the below steps will show exactly how to do it.
First, go to TDS website from https://www.tin-nsdl.com/ and then log in using your account details by clicking on the "Login Here" option
Once you are logged in, click on TDS from top menu section and then click on "Upload TDS" option
On the next page you will see a popup appear for Statement details form and here you have to select FVU 5.1, your preferred financial year of TDS, Name of form, Quarter and Regular as Upload type, then click on Validate button
Then Upload TDS Return page will appear, under which click on "Upload TDS(.zip) File" Browse option and select the TDS or TCS statement you want to upload
Next click on "Click here to download the DSC Utility" option and download this called as the signature file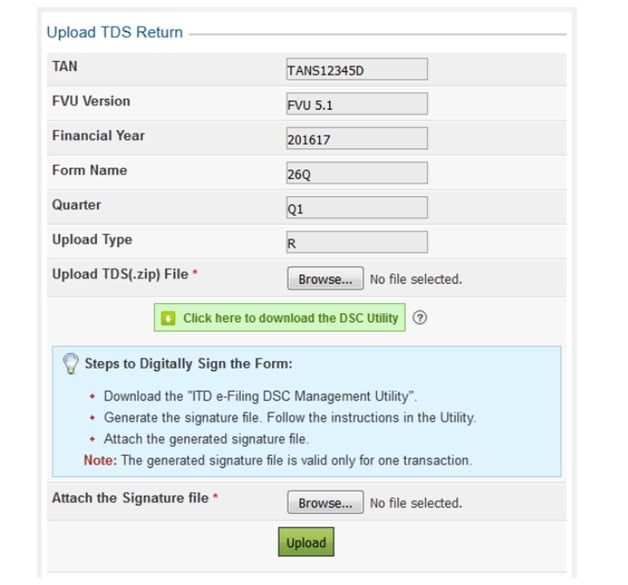 Then use the above-downloaded signature file by uploading it in "Attach the Signature File" option and then finally click on the "Upload" option which will begin uploading the TDS or TCS statement
Once the TDS upload is successful then it will show up on the screen under the Step 3: Upload Successful
How to view TDS / TCS Statement Online – Check Uploaded TDS Online
TDS is an important statement in your ITR filing and you would be able to check the status if it has been accepted or rejected by checking the process below on how to view the TDS statement.
Open the TDS official website again and then this time, click on TDS under this select "View Files TDS" option
Then it will open the page "View Filed TDS Returns" and on this page, you have to select your TDS details or else just click on "View Details"

Once you click on "View Details" option without selecting any details then it will show all uploaded TDS statements
Now you can see all the uploaded TDS statements till now along with their status as well
Then click on the Token Number in red color for the respective TDS statement in order to view its details
The status will either be Accepted or Rejected, in the case of Rejected you will have an error description that explains what was the problem with the TDS submitted, and then you upload it again by rectifying that error.