Income Tax ITR Return e-Verify Process in Step by Step along with ITR Submission online at https://www.incometaxindiaefiling.gov.in…
As we all know it is important for everyone to submit their Income Tax returns every year to the Income Tax Department of India which can be done online from the ITR e-filing website. But there is another catch where once the Income Tax Department has completed its process, then you also need to verify the documents online.
Verification of the approved or submitted Income Tax Returns for every financial year is an important process and in order to help you understand how you can simply file for your tax returns verification we have created this article.
How to e-verify ITR Submission – Income Tax Returns E-Verify Process
If you are looking to ITR e-verify any of your previously filed Income Tax returns forms then you should follow the basic instructions given below that will help you to do so.
First, you have to open https://www.incometaxindiaefiling.gov.in/home and then login with your account details
Then open View Returns/ Forms under the e-File top menu section and click on it
Under the "e-Filed Returns/Forms" page you have to click on "Click here to view your returns pending for e-Verification"
In the next page you can see all the ITR filings that you have submitted that require e-Verification and select anyone, then click on "e-Verify" option under the selected one

Once you have clicked on the e-Verify option then it will open in a new page where you will be asked to Generate ECV
In the "Generate EVC" page you will find 4 options to follow to generate EVC that you can use to verify your ITR filing

Option 1 – Generate e-Filing OTP
Option 2- Generate CV through NetBanking
Option 3 – Generate EVC through Bank Account Number
Option 4 – Generate EVC through Demat Account Number

Note: Make sure you select any option that will be easier on your end, most of the time NetBanking is the most prominent and easier method of verification since OTP generation is quick.
Once you have selected any of the methods and generated EVC through it then, it will redirect you to "EVC Generated Successfully" page where you have to enter the EVC code
Enter the EVC code you have received by generation in the ECV (Electronic Verification Code) box and then click on submit button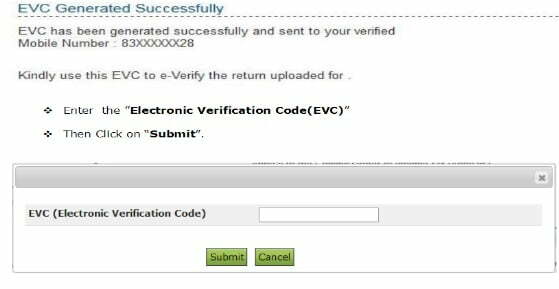 Finally once you have submitted the details then you will receive a acknowledgement message on the screen along with the transaction ID and the code that has been used.

On the same final confirmation page, you have to click on the "Click here to Download Attachment" option through which you can download the e-Verification Acknowledgement.
For more and additional information about Income Tax ITR e-Verify please visit the official website and read all documents at https://www.incometaxindiaefiling.gov.in/home