BharatPe Introduced a merchant dashboard to manage daily transactions for all retailers, shop owners and small businesses enterprises at https://enterprise.bharatpe.in…
BharatPe is a payments app that allows any app to accept UPI and card payments for free. It simplifies payment acceptance by providing merchants with a single QR code that allows them to accept payments from Google Pay, PhonePe, Paytm, BHIM, Amazon UPI, and more than 150 other banking apps.
BharatSwipe also allows you to accept debit and credit card payments. Over 70 lakh merchants use BharatPe. BharaPe Offered various benefits to Retailers or Small business enterprises with loan Opportunities to grow their businesses.
BharatPe Login
Install the BharatPe App.
Sign in using your BharatPe app.
You can Sign Up for WhatsApp on the screen.
It will direct you to open through Whatsapp.
Select the WhatsApp App.
It will send the link to your WhatsApp Number.
Use Google Chrome to open this link.
A New inter page will open and redirect to the App.
Then you have Successfully Login and Reached the Dashboard of the Account.
BharatPe Dashboard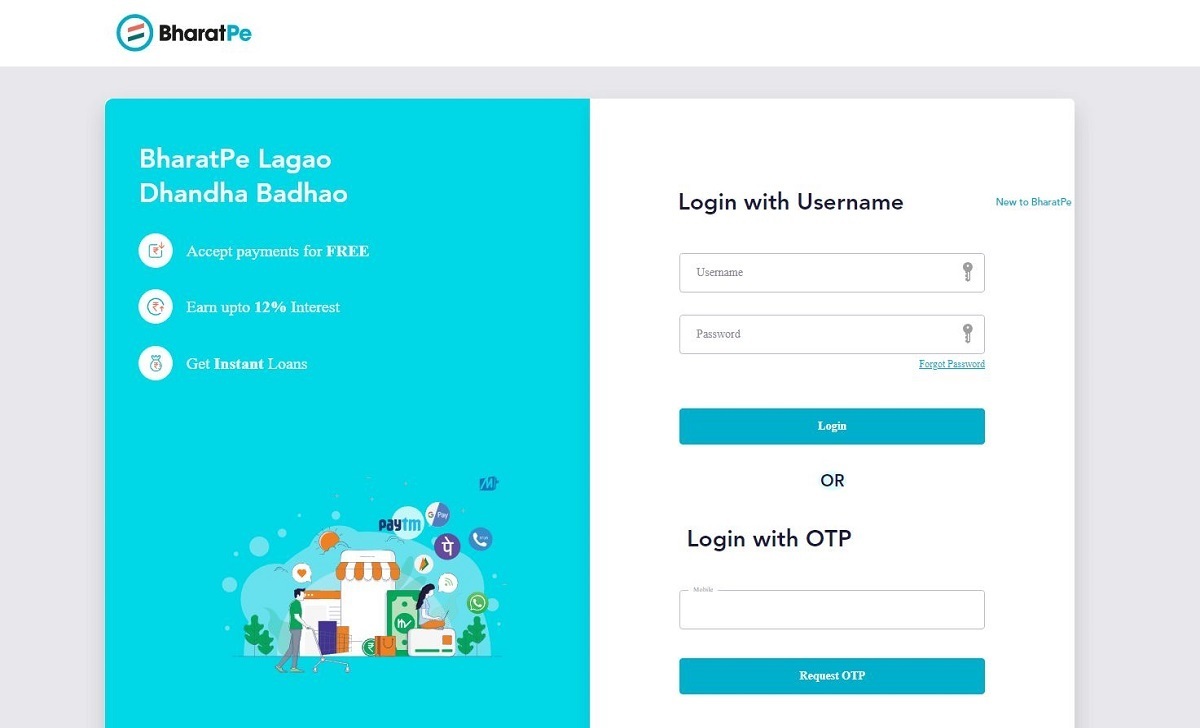 How to do BharatPe Merchant Registration?
Download the BharatPe App Install and Launch the App.
Choose your language, then press the Proceed button.
Enter your Mobile Number and press the OK button. (Note: Phone Number must be linked with your bank account number)
The OTP will be given to the registered mobile number.
Enter your OTP and Allow the Location permissions now.
Enter your bank information, such as the bank name, IFSC code, and account number.
Scroll down and enter the business name and category.
Now, select conform. It indicates that a QR Code will be sent to your address within 48 hours.
Enter your phone number and address, then press the confirm button.
That's it now you have successfully registered as BharatPe Marchent, after verification of the submitted details, your application will be approved and sent a QR Code and documents for guidelines.
BharatPe Merchant Login
Open the BharatPe official website and select Merchant Login at https://enterprise.bharatpe.in.
There are two login options available, that's one is logging in with your Username & Password, another one is Login by OTP Verification.

Login with your Username and Password.

Enter your "User name and Password". Click on login.

Another option is to "Login with OTP".

Enter your mobile number.
Click on "Request OTP".
OTP was sent to the registered mobile number.
Verify the OTP to get Successful login.
BharatPe Merchant Dashboard
BharatPe Merchant Dashboard was introduced with good offers of Accept payments for FREE, Earn upto 12% Interest, and Get Instant Loans based on transaction history.
Access the Bharatpe website by logging in at https://bharatpe.com.
Login by using any option like "Username and Password" or "Login with OTP".
After Successful login, the merchant will reach their account dashboard.
The BharatPe Merchant Dashboard allows you to track all transactions along with BharaPe offers.
How to Apply for BharatPe Loan
The BharatPe Offers good loan Opportunities to Merchants.
Registered retailers, shop owners and small businesses enterprises avail of the Instant loan facility based on their transactions with the lowest interest rates.
People who receive funds through the BharatPe QR code will only be eligible for loans.
Eligible Retailers, Shop owners and Small Businesses Enterprises can follow the steps to apply for a BharatPe Instant loan.
Login into the BharatPe Marchent Account through the Desktop PC Web version or Mobile App.
Select and proceed with the "Get Loan Now" option.
Full fill the Loan Application form with necessary details such as PAN Number and etc.
Then Select the "Get Now" option, now you have seen your loan eligibility.
Now provide your contact information, address and etc.
Next, Upload your PAN Card and Selfie.
Verify Aadhar with OTP and Proceed.
Give your bank information now that the "Loan Agreement" is visible.
Accept the agreement to approve your loan amount to credit in your bank account.
Benefits with BharatPe
Get QR Code for all Payment Apps.
Zero Charges.
Easy loans up to 7lakhs.
Bill Payment.
Bharatpe cricket.
BharatPe Swipe.