JNVST Model Papers 2021 Download for Navodaya Admission Selection test for class 5th to 6th, 8th to 9th and 10th to 11th or 12th Lateral Entry Admission tests, Download Navodaya Previous Paper 2021 Pdf with JNVST Sample Model Papers 2021 with Answer Solutions ….
Jawahar Navodaya Vidyalaya Samiti is conducted the JNVST Admission Selection test 2021 for class 5th to 6th class students and the NVS Lateral Entry Admission tests also conducted for 8th, 9th,10th and 11th standard students for getting admissions into the higher class in Navodaya Vidyalaya schools across in the country.
all the students who have interested to get admission in to JNV schools they can download JNVST Model Papers 2021 with Previous examination test sample question papers with practice question bank along mock test papers for JNVST Admission Selection test 2021.
JNVST Syllabus 2021
The JNV Officials have conducted the JNVST 6th Class examination tests based on the 5th class syllabus, and the syllabus based on applied student region local language for each state, for example, Telangana and Andhra Pradesh State students can face JNVST Syllabus as per their state SCERT syllabus books in Telugu language and the students who are applied from Hindi State and any other state they will choose their local language and the question paper also designed as per their state syllabus.
The Students who have to wish to appear for 8th, 9th, 10th and 11th/12th Lateral Entry Admission examination tests they can also applicable same syllabus as per their state syllabus in their religious languages of Bengali, Assamese, Bodo, English, Garo, Hindi, Gujarati, Kannada, Malayalam, Marathi, Manipuri, Nepali, Punjabi, Mizo, Oriya, Sindhi, Telugu, Tamil, Urdu, Sindhi (Devnagri).
JNVST Subject wise Syllabus 2021 for 5th to 6th Class Admission Test
Mental Ability Test
English Languages
Arithmetic Test
JNVST 9th Class Syllabus 2021
JNVST Exam Pattern 2021 Question pattern or Paper Style
According to the reports, the Jawahar Navodaya Vidyalaya Samiti has designed the question paper in 3 sections for totally 100 marks with 100 objective type choice questions, and there is no negative mark for wrong answers and each question will give single mark, the students who have getting good score they will select for Navodaya Vidhyala Admissions 2021.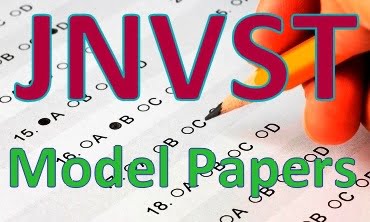 JNVST 6th class Question Pattern 2021
All the JNVST 2021 students can follow the table to know about JNVST Exam Pattern 2021, NVS officials are announced the paper style with subjects and time duration of the admission test.
| | | | |
| --- | --- | --- | --- |
| Subject or Type of Test | Number of Questions | Total Marks | Duration |
| Mental ability Test | 50 | 50 | 60 Minutes |
| Arithmetic Test | 25 | 25 | 30 Minutes |
| Language Test | 25 | 25 | 30 Minutes |
| Total | 100 | 100 | 2 Hours |
Navodaya Exam Pattern 2021
JNVST 9th class Question Pattern 2021
| Subject Name | Marks |
| --- | --- |
| English | 15 |
| Maths | 35 |
| Hindi | 15 |
| Science | 35 |
| Total Time: 3 Hours. | 100 Marks |
Navodaya Question Pattern 2021
The Students who have applied for the Navodaya 6th, 7th, 8th, 9th, 10th, 11th, 12th admission selection tests they can download JNVST Model Papers 2021 with past years previous examination test question bank with answer solutions for guessing important questions, we have providing JNSVT Previous Paper Pdf for all languages students from past 5 years and 10th years old examination tests from the following direct links.
JNVST Previous Paper 2021 Pdf with Answer Solutions
Students can download the JNSVT Previous Papers 2021 for class 6th and 9th class admission selection tests, we have suggested to all students to download and practice in subject wise to get a good score, download JNVST Previous Model Sample Papers and Practice as guess papers and conduct a regular mock test from the JNVST important questions, you will select NVS admissions easily.
Download Navodaya (JNVST) English Model Paper 2021
Navodaya (JNVST) Model Paper 2015 Answer Key
Navodaya (JNVST) Model Paper 2016 Answer Key
Download Jawahar Navodaya Entrance Exam (JNVST) Model Paper 2021
Navodaya Model Paper 2021
The Students who have appeared to the JNV Admission Selection test 2021 they can collect a JNVST Model Set 2021 from nearest bookstore, the JNVST Model Set Books maintain previous past years question papers with answer solutions and they will provide subject wise new syllabus suggestions with study material along subject experts suggested preparation tips to use for select for Navodaya vidhyala admission selection test 2021.